The smallest of our presses, this machine can grow with your business. Different circuit solutions depending on the customer requirements. Average production of 10.080 blocks 20x20x40 cm in 8 hours shift.
*Productions based on Press performance at 100%.
Length: 3.226 mm.
Widht: 2.130 mm.
Height: 3.515 mm.
Height without Press cylinder: 3.045 mm.
Weight without mould: 6.500 kg.
Approx. Mould weight: 900 kg.
Hooper capacity: 1.000 l.
Manufacturing height: 40 mm (min) 300 mm (max).
Pallets dimensions: 1.200x700x40 mm / 1.200x600x40 mm.
Useful working area: 1.100x550 mm / 1.100x650 mm.
Vibrator máximum power: 11 kw.
Hidraulic unit power: 24 kw.
Press total power: 24 kw.
Table height adjustment without tools.
Press with 4 guiding columns - 080.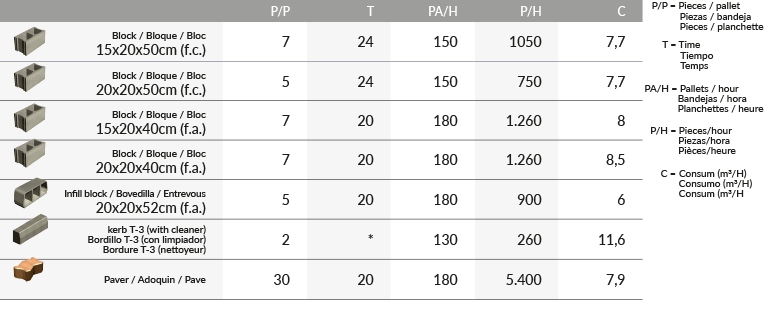 * Output with batching plant 12 m
3
/h Production data for guidance only, depending on the shape of the pieces, type of aggregates and possible circuit stops.