Our latest development for very high outputs. Production of blocks, infill blocks, kerb stones, pavers and other precast concrete elements. Pallets up to 1400x1300 mm.
Productions of  aprox. 35.000 blocks 20x20x40 cm in 8 hours shift.
VMI 4 motor vibration system with electronic  synchronisation of masses. Fitted with iCOntrol.
Production pallets: 1400x1300 mm max, 1200x1100 mm min
Manufacturing height: min 40 mm / max 350 mm
VMI 4 motor vibration system with electronic synchronisation of the masses
Vibrator strength: 0 to 30,000 daN
Vibration power: 60 Kw
Total power of the press: 120 Kw
Vibrating motors on the tamper head to improve the surface finish of the piece
Electrical adjustment of the product to be manufactured, without the need for tools
Hydraulic/pneumatic fastening of the mould
Concrete loader with beater and grid
iControl System
Remote WIFI / 3G connection 
MAIN OPTIONS
Equipment for facing concrete
Press hydraulic brake
Manufacturing on metal pallets
Automatic vibrator lubrication
Belt dosing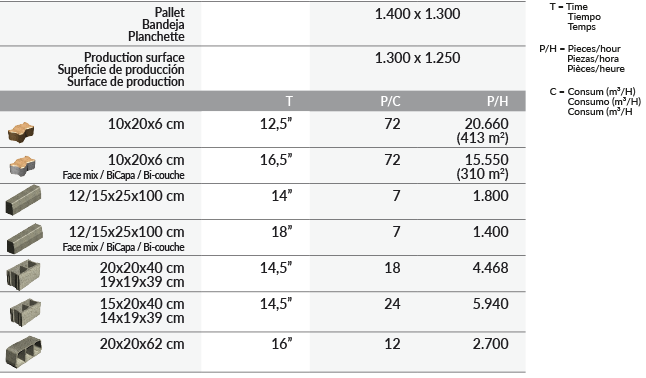 Producciones basadas en un rendimiento Prensa al 100%
*Productions based on Press performance at 100%. Production data for guidance only, depending on the shape of the pieces, type of aggregates and possible circuit stops.